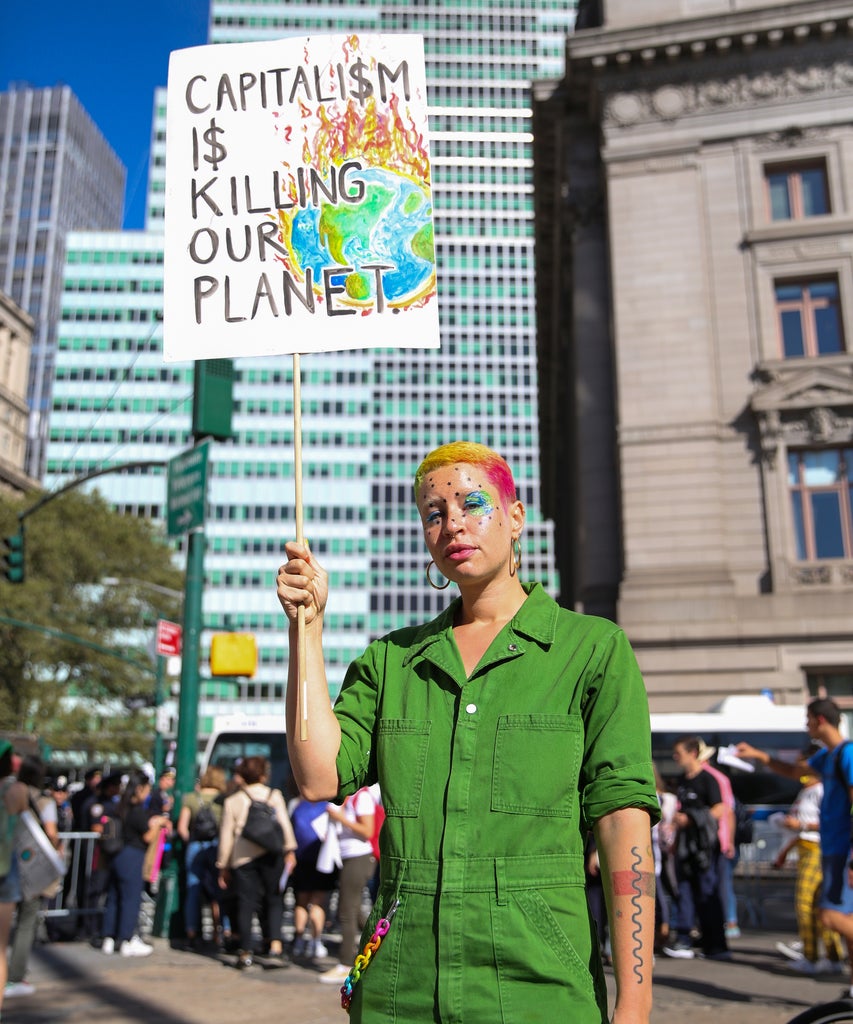 The vast majority of world leaders and members of parliaments — the same politicians who are shuffling their feet when it comes to taking action on climate change — are men. But it's women, particularly young women and women of color, who are at the forefront of climate-justice activism.
At New York City's Global Climate Strike on Friday in Battery Park, 16-year-old Greta Thunberg, who has gone from unknown teenager to movement leader in just a year, took the stage to address the crowd, which was made up of every imaginable demographic, but primarily young women. There were college students in "Destroy the Patriarchy" shirts, high school kids in cutoffs and white sneakers, and even children being pushed in strollers holding signs like "More Gretas fewer Trumps."
"This is what people power looks like," Greta said in her speech, looking every bit like someone who is beginning to take command of her presence in front of such a huge crowd. "We will rise to the challenge. We will hold those who are the most responsible for this crisis accountable, and we will make the world leaders act. We can and we will. And if you belong to that small group of people who feel threatened by us, then we have some very bad news for you. Because this is only the beginning."
We spoke with women in the crowd about their role in the fight against climate change.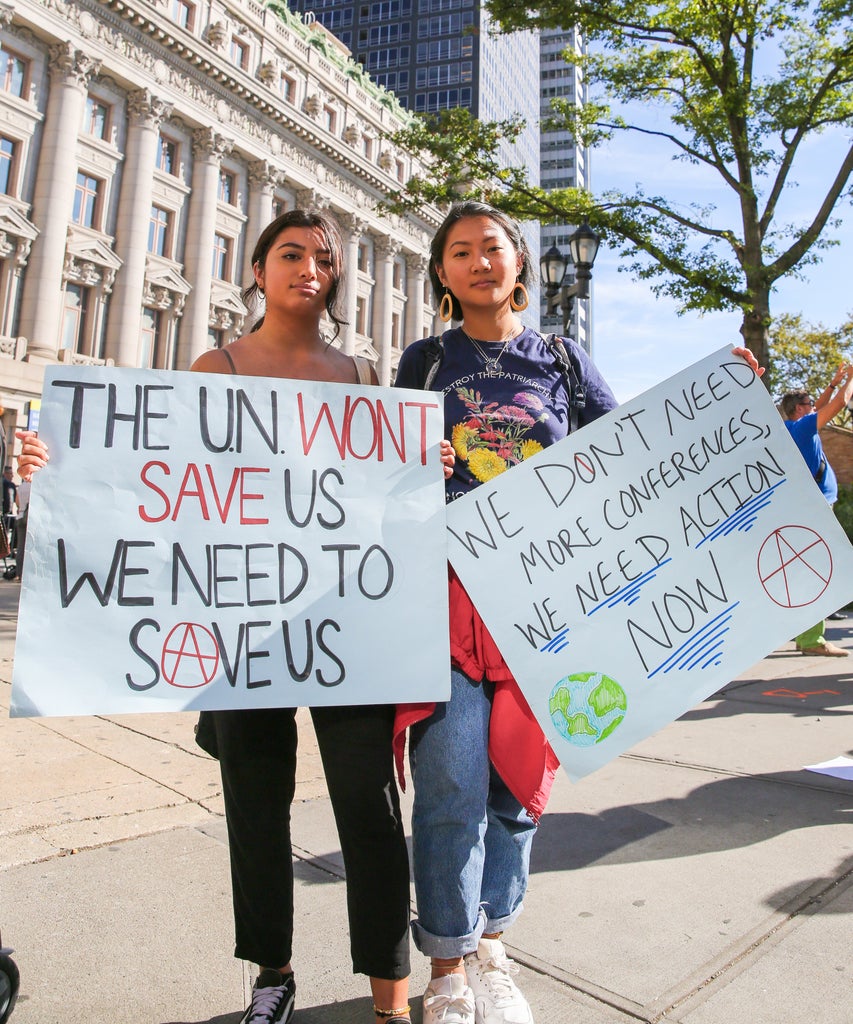 Abby Terrigino, 20
A student at the New School, Terrigino (right) says she believes that "climate change is disproportionately affecting low-income communities, communities of color, and women of color."
"I think throughout history, you see women leading all sorts of social movements, and being the real reason why any progressive change is being addressed in our society. But I think the liberation of women is especially connected to climate justice. Women cannot be liberated until our earth is liberated from the system of capitalism and exploitation, because women's bodies have been taken over by capitalism and used to produce for the patriarchy, for the need of men."
Shirley Aparicio, 19
Also a student at the New School, Aparicio (left) says she believes more people need to be made aware of ecofeminist thought, which she says provides an intersectional look at climate change.
"I think it's not a coincidence that these things are happening disproportionately to minorities, women, people of color, marginalized communities. I feel like it's a direct effect that has happened through racist science and racial capitalism that has targeted these communities, because in the patriarchy and white supremacy these people, these marginalized communities, are expendable, they're discardable. That's what needs to change."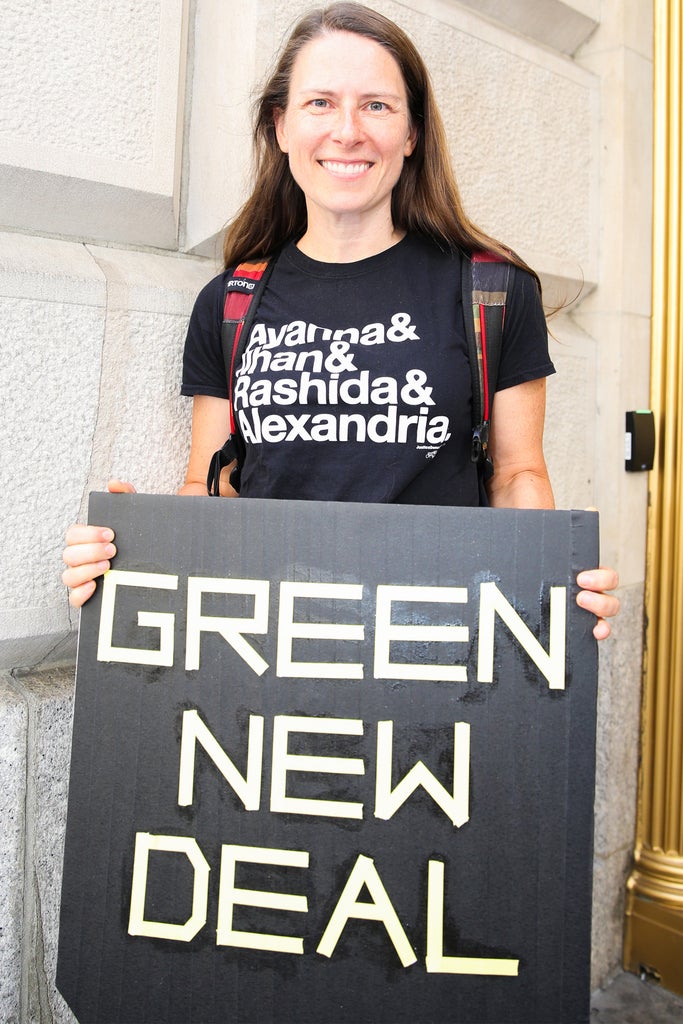 Taryn Matusik, 48
Matusik says she chose not to have children because of the climate crisis. She is a teacher and says she joined the movement because she is afraid for the future of her students. She says she admires women like Rep. Alexandria Ocasio-Cortez, who introduced the Green New Deal, as leaders against climate change.
"I definitely think that women are leading this movement. Young women like Greta who are stepping forward and being brave, and just not taking it anymore — not taking people stealing their future."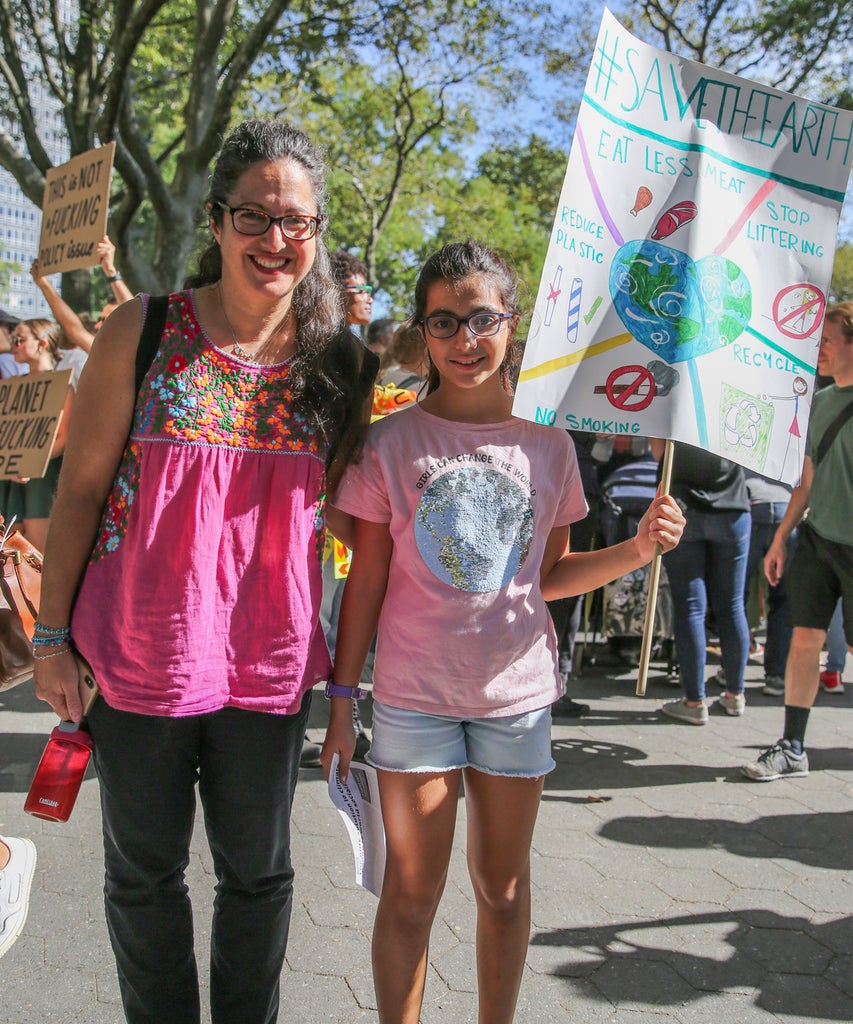 Nayla Nernekian, 9
Nayla has been interested in politics since kindergarten and wants to be a lawyer. "Of course it's women leading this movement. Girls can change the world. They're leading this."
Nayla's mom, 48, anonymous 
"I do think women are more protective of the environment. We're more preservationist by instinct, which is probably a combination of biology and history. I think it's time for women to run things. I don't think men have done such a fantastic job for the past few millennia."
Like what you see? How about some more R29 goodness, right here?
Here Are The Women Fighting Climate Change
The Best Signs From The Climate Change Strikes