One of our favorite New York-based bloggers, Gavyn Taylor, is giving us an inside look at New York Fashion Week today. (You might recognize Gavyn from Lauren's denim collection campaign!) Keep reading to see some of the chicest street style look she spotted at Fashion Week's CurvyCon…
Every year when September rolls around, New York draws thousands of fashion forward folks yearning to see the latest trends at Fashion Week. The bustling streets are filled with looks as chic as those spotted on the runways, with the fashion crowd taking every opportunity to express their individual styles. Unfortunately, a large demographic is commonly left out of this exciting event: the plus-size community. That's where The CurvyCon comes into play, a three-day event specifically made to fill in the gap mainstream fashion publications have left wide open. Gathering together size inclusive brands, fashionistas, business tycoons, bloggers and YouTubers, people from across the globe have gathered at The CurvyCon. There are countless shops for every style need and panels to share experiences in dating, fitness, body positivity and of course, fashion. Among these guests are some of the most fashion forward styles on and off the runway, and luckily I came to the event with my camera in hand. Here are some of my favorite trends you can recreate right now…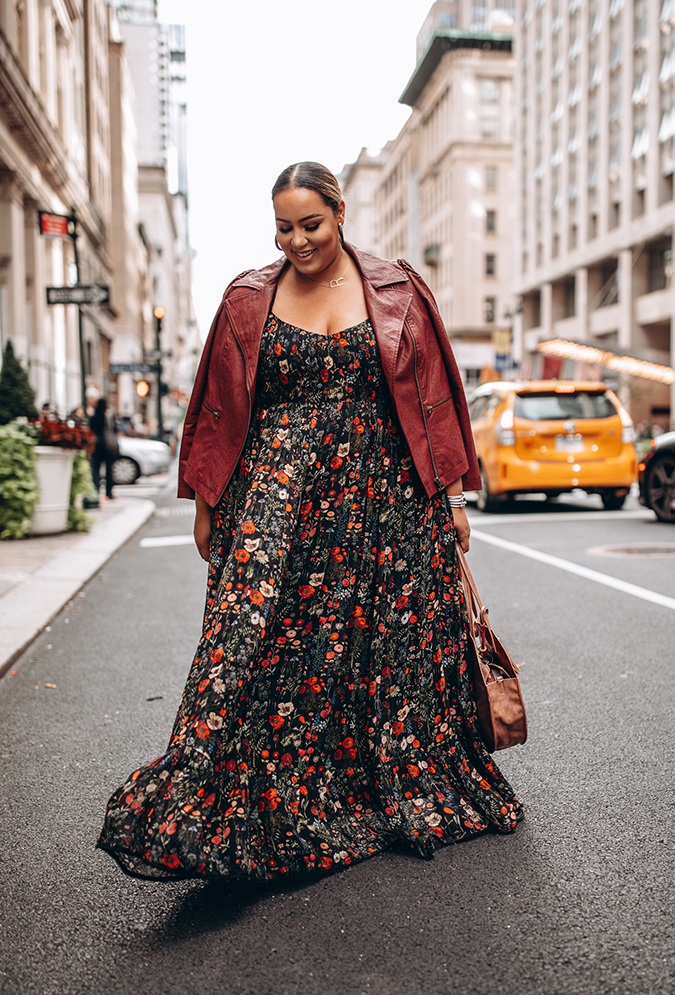 1. Modern Romance
Victorian inspired, uber feminine silhouettes have taken the runway by storm. Whether it's an oversized baby doll dress, dark florals, or complex accessories, it's all about sophistication. What makes this trend stand out this year is the contemporary twist. Rochelle Johnson of @iambeauticurve paired this gorgeous dark floral maxi with a red moto jacket, making it chic and modern while maintaining femininity.

2. Leather Dresses
It seems leather never truly goes out of style, especially in the fall months. This year, head-to-toe leather is a trend that anyone can easily put together for a fashion forward look. Whether it's genuine or faux, you can take you leather look to just about any occasion. I loved turning this leather dress into a makeshift trench coat by layering it over a leopard slip dress. If you're a little apprehensive about doing a completely leather look, start with smaller pieces like a skirt, moto jacket, or even a leather beret. You can see more of my own Fashion Week looks on my Instagram, @gavyntaylor.

3. Puff Sleeves
This avant-garde trend is slowly trickling into fall, but has been around for most of 2018 and 2019. It may remind you of the styles of your childhood, however your Sunday school outfit has had a serious upgrade. Although it may not be as practical to layer jackets over in the cooler months, playing princess is definitely a game you should revisit before the temperature drops. Nova of @iamnovastyles looked so cool in a bright pink puff sleeve dress, the monogrammed belt, zebra print booties and some of the coolest glasses I've ever seen.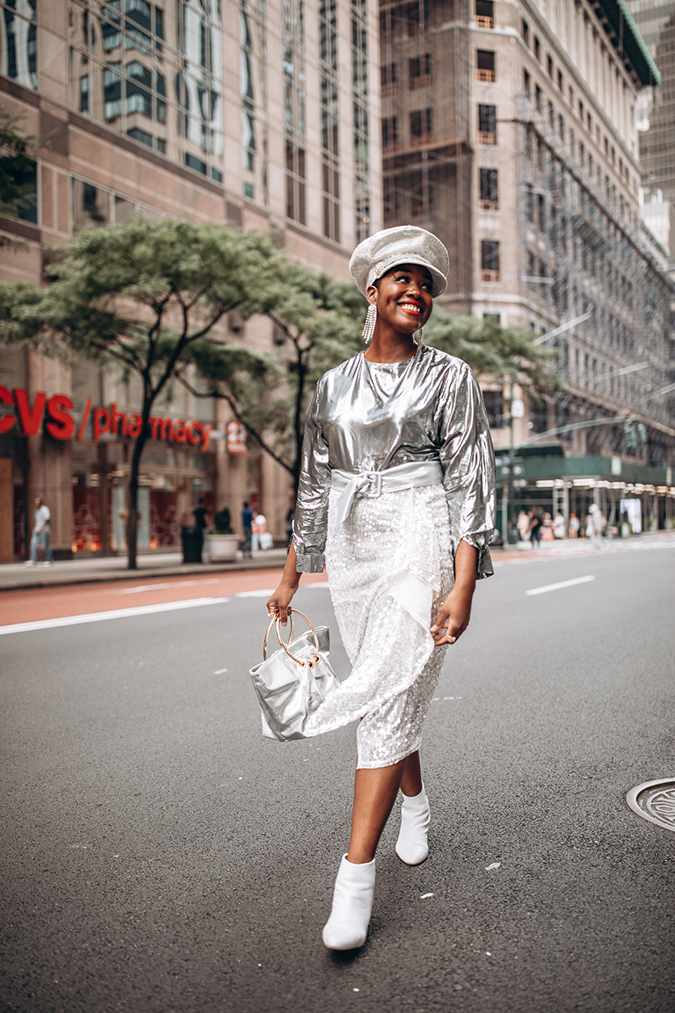 4. High Shine
If neon isn't enough or you really want to stand out in the crowd, try some high shine with this season's seriously hot trend: lamé. Whether you're rocking a metallic coordinated set, or simply throwing on a shimmering tank top under a black blazer, you're bound to have all eyes on you. It may seem like a little bit much, but this style can actually look really feminine and delicate, especially if you're wearing shades of light pink. The aptly named @morethanyouraverage definitely made an impression in her custom designed lame top and sequined skirt.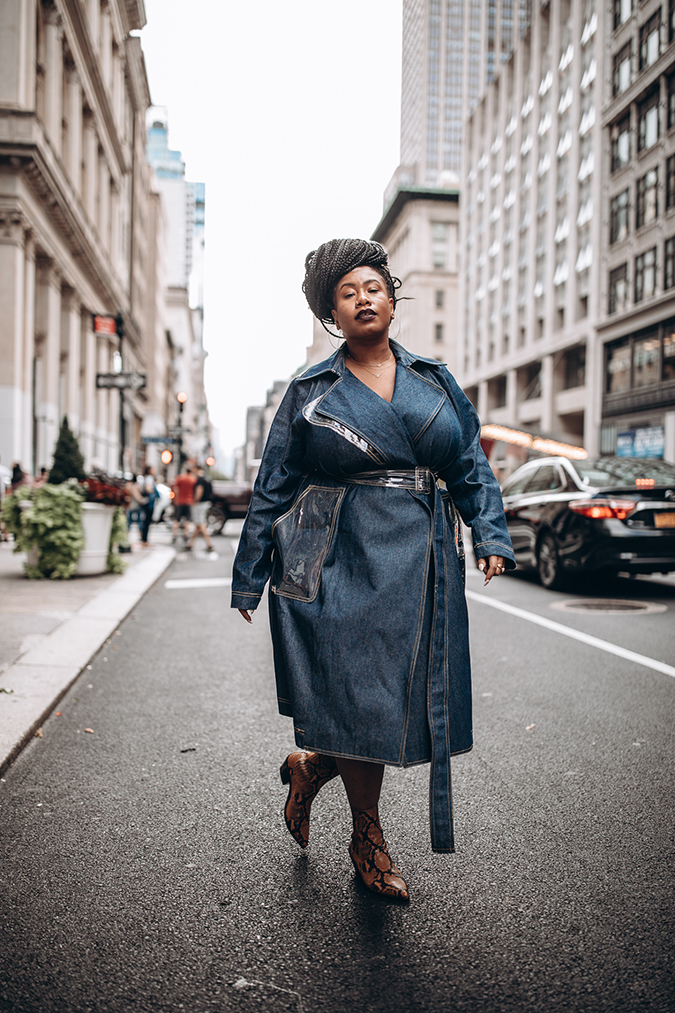 5. Trench Dresses
Trench coats are probably the coolest options in the outerwear category, so we're taking it one step further and officially making it a dress. With intricate buttons and seriously chic belts, any trench coat can be your grab and go look. Go for a super trendy take on the trench by wearing it over a sleek slip dress paired with a great boot. Or the trend can be dressed down with a cool sneaker and a shimmering crossbody bag. This look above belongs to the beautiful @kellyaugustineb.

6. Maxi Dresses
This season is all about the maxi. Long and strong is the way to go with your maxi look—bold prints paired with knee-high boots covered NYFW runways. If you're worried about how a maxi may look on your shape, try a wrap dress like the one I'm wearing in the photo above or a fitted top with a maxi skirt for a more tailored look.

7. Neon
Normally one would assume neon to be a trend we'd only see in the summer time—this season it's in just about every major runway show. Ultra bright colors are dominating a time when we used to see deep hues of reds and browns. Add this trend to your closet with a simple neon handbag or go full-on highlighter in a neon dress! I love @gessflyy in this neon utility dress it looks stunning on her skin and during NYFW. If orange isn't your color, try starting small with a bright pink shoe or green accessories.

8. Animal Prints
Another trend that never seems to die out, animal prints are a classic staple piece for every closet and every body type. Animal prints make a bold statement on their own, and this year plain old prints just aren't enough. Step up your closet with by adding a plethora of different animal types or brightly colored prints. Dalmation, cow, and zebra have been seen everywhere this season, and leopard has gotten an upgrade from its normal brown and black tone to multicolored goodness. I love how @ashley_dorough paired her striped leopard print skirt with a watercolor top and dusk rose booties. All the pieces are pulled together to create a beautiful menagerie of color.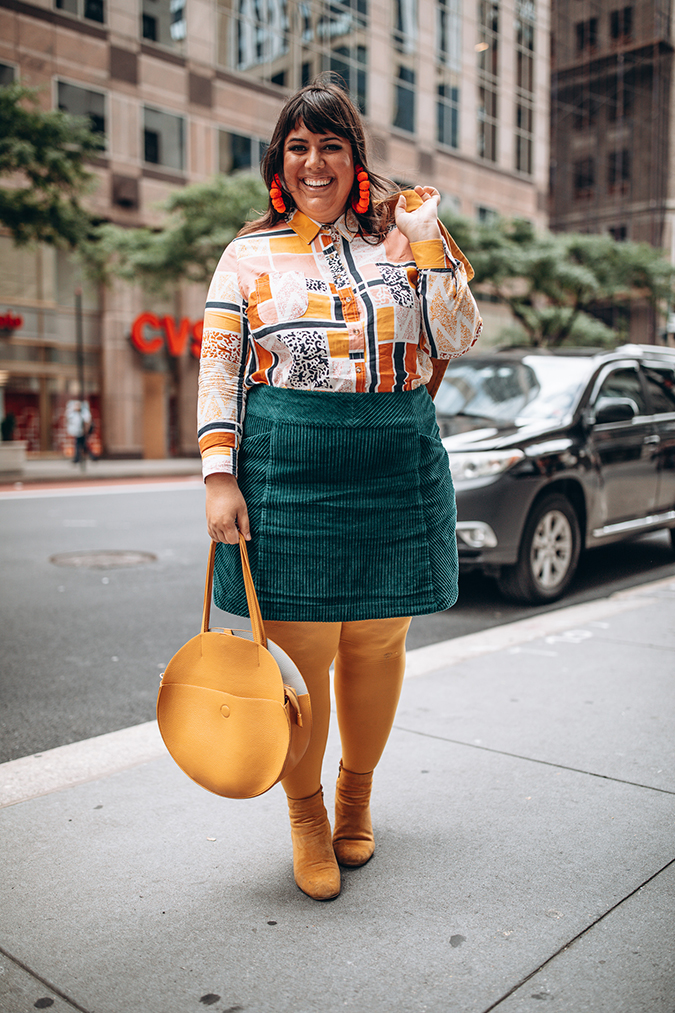 9. Colored Tights
In NYC it gets pretty cold. That means layering tights under long johns, under pants, and under coats. So what to do when you want to transition some of your favorite short skirts and dresses from summer to fall? Throw on a pair of colored or textured tights for a bold, standout look. Step away from those simple black and sheer tights and go full on monochromatic like @raizacostaofficial. She matched her yellow tights to her boots, creating a super mod style and giving her frame an elongated look. How cute!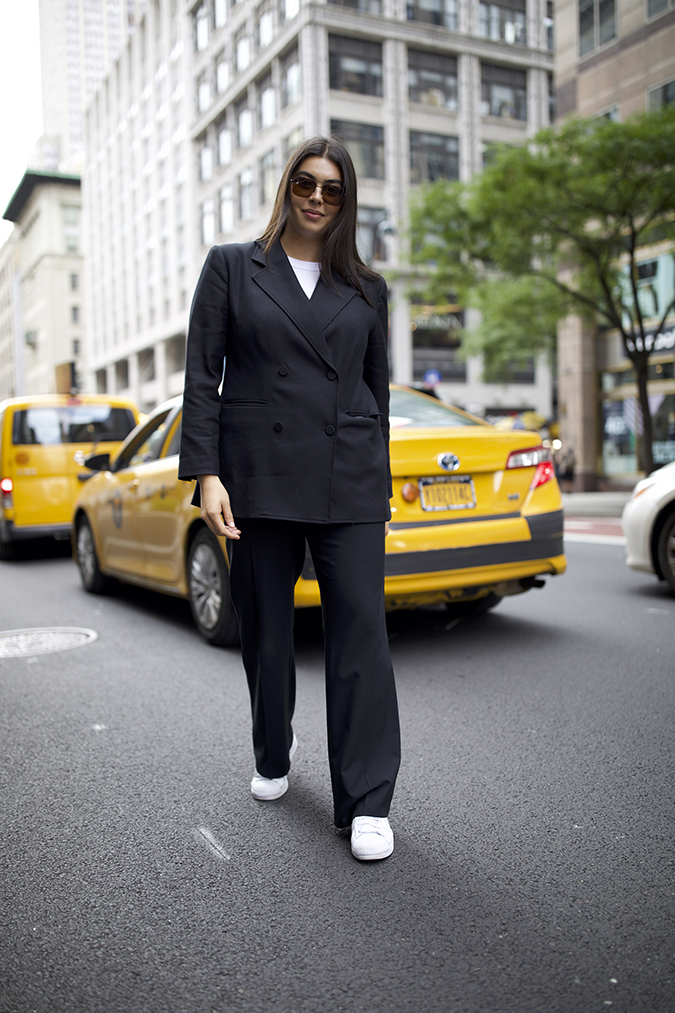 10. Cinched Suiting
Your office uniform just got cooler. Fall is all about a great tailored suit, especially if it's belted. Cinched suiting is perfect for running from the boardroom to the bar. A classic, sleek, black suit, like the one Henning designer @lcchan is wearing, is a great staple piece for your closet. Use any of your suits as a base for effortless style, then wrap a plain or colored belt over the top and throw on your favorite sneakers on your way out of the office. You can't deny how cool this CEO looks!
Which one of these looks was your favorite?
If you loved my CurvyCon coverage, you should know that Lauren's Kohl's line also comes in plus sizes. Shop some of our favorite plus size LC Lauren Conrad pieces here…

Turn on your JavaScript to view content
And don't forget to follow Gavyn on Instagram for more inspo.
XO Team LC
Affiliate links may have been used in this post.
The post 10 Street Style Looks Spotted at CurvyCon appeared first on Lauren Conrad.