Welcome to Money Diaries, where we're tackling what might be the last taboo facing modern working women: money. We're asking millennials how they spend their hard-earned money during a seven-day period — and we're tracking every last dollar.
Today: an R&D Engineer working in manufacturing who has a joint income of $167,736 per year and spends some of her money this week on pre-natal vitamins.
Occupation: R&D Engineer
Industry: Manufacturing
Age: 27
Location: Western NC
My Salary: $82,000
My Fiancé's Salary: $65,000
Rental Income: $15,000
Annuity Payment: $5,736
My Paycheck Amount (1x/month): $4,659.33
My Fiancé's Paycheck Amount (1x/week): $1,250 (pre-tax)
Rental Income (1x/month): $1,070
Annuity (1x/month): $478 (This is from a wrongful death settlement from my mom's death)
Gender Identity: Cis Woman
Monthly Expenses
Mortgage: $1,455 (for mortgage, tax, and insurance on the house we live in)
Second Property Mortgage: $618.77 (for mortgage, tax, insurance on my first house where I used to live, which we rent out. I purchased the first house myself and when we moved in together, he paid more for the second house so that we both were bought in equally to both houses.)
Loans: $0 (I had scholarships and grants, university paid for master's. Cars bought in cash 10+ years ago.)
Joint Expenses With My Fiancé:
Internet: $45
Power: $125
Water/Trash: $100
Hulu: $1.05
YMCA membership: $20 (Fiancé's company covers the rest)
Netflix: $0 (bum from my parents)
Personal Expenses:
Car Insurance: $53.29
Cell Phone (my half of the account I'm on with my sister): $90
Gym Classes (eight classes per month): $110
Washington Post: $4.27
Amazon Prime: $119 (per year)
401k: I contribute 10% of my paycheck to my 401k and my company does a 4% match. I transfer leftover savings into index funds at the end of the month, usually about $1,000.
Note on joint finances: We have partially joint finances. We each have personal accounts and also share a joint account out of which all our living expenses, food, gas, and shared experiences come. Individually we pay for things we do alone and hobby spending.
Day One
6:30 a.m. — My alarm goes off, and after a few minutes looking at my phone, I get up to get ready. I washed my hair last night so I blow dry it this morning using the round brush attachment on my Dyson AirWrap (SO much easier to blow my hair out this way!). I also do my morning skin care: Niacinamide, Buffet, and Hyaluronic Acid from The Ordinary and La Roche Posay moisturizer. Then I go to the kitchen to pack my lunch. Every morning I cut apples for my fiancé, S., and I to take to work. I leave his on the cutting board.
7:30 a.m. — I get to work and make black peppermint tea. The water is really hot so I wait until after my 8 a.m. meeting to drink it. Then I snack on sea salt popcorn — my normal work breakfast. I chat with my coworker about our weekends, and I get a funny text from my fiancé that he used the wrong knife to cut a bit of core out of his apples and he does not endorse garlic flavored apples — he used the paring knife I used to chop garlic yesterday!
9 a.m. — I am feeling very uninspired to work today. I try to purchase a dance class I want to go to tonight, but it somehow signs me up for four classes next month instead of this month? I try to get it fixed via email, but they're not very helpful. I decide that I can show up and get it figured out there. I finally got a library card last weekend, and I spend some time looking through their collection of sewing books. I put the only two I'm interested in on hold for delivery to the branch near my work. $50
12 p.m. — I eat my lunch (apples with peanut butter and some chips) while catching up on the late night shows on YouTube. I also have a dairy-free brownie from the batch S. made this weekend. He sends me a listing for an extra large gold framed mirror on FB marketplace — I'm collecting them for signs for the wedding. It's only $10, which is an amazing price so I jump on it and tell the seller I can pick it up tonight. I debate going to the grocery store to buy a bottled Starbucks Frap and get cash out, since I don't have any on me, but manage to resist. I'm sure I'll find cash at home and I need to go back anyway to take the dog crate out of my car so the mirror will fit.
1:30 p.m. — After a meeting I snag some Jelly Belly's from someone's office which are on the table with an "eat me!" sign. It's been a while since I ate jelly beans and I have a tutti frutti flavor, which used to be my favorite when I was a kid. Now it just reminds me of toothpaste? I really like the vanilla flavored ones — does this mean I'm old?
4:45 p.m. — As always I get caught up in something right as I'm trying to leave and leave a bit late to head home. I struggle to get the extra-large dog crate out of the car by myself while my dog stands by and whines at me. I visit various hiding spaces around my house and rustle up $10. I message the seller that I'm on my way. I stand outside this person's apartment for 20 minutes, knock on her door twice, and she finally messages me to say the mirror sold! WTF!? How rude.
6 p.m. — Since I've wasted the time I would normally have been making dinner, I stop on the way home to pick some up. I stop by Moe's to get a kid's burrito bowl ($5.34) and then right down the street to Bojangles to get my fiancé chicken supremes ($7.48). Both food purchases go on our joint credit card. I can't eat Bojangles and he doesn't like Moe's, so since they're near each other and down the road from our house we usually do this combo. We watch an episode of Stargate while we eat and complain about the FB seller. $12.82
7:35 p.m. — I feed the dog and leave for my tap class, which is downtown, and I circle the block four times looking for street parking so I don't have to pay $6 at the lot. Class was good but frustrating — the choreo was so fast this week and this other lady kept crowding me! When I get home I go downstairs and iron some fabric I washed this weekend for 45 minutes while chatting with friends through Instagram.
10 p.m. — I go upstairs to shower and do my nighttime beauty routine — The Ordinary Mandelic Acid, tea tree treatment on a small zit on my chin, and more La Roche Posay for my face. I also use The Ordinary's hair density serum I've been trying out after my hairdresser recommended a much more expensive one and Gold Bond Rough & Bumpy on my legs and arms to try to tackle my chicken skin.
Daily Total: $62.82
Day Two
6:30 a.m. — My alarm goes off — I slept TERRIBLY last night. I was tossing and turning all night. I spend 20 minutes on Instagram and Reddit before dragging myself out of bed and doing my normal morning skincare routine and adding some non-aerosol dry shampoo to my hair. I put a new velvet scrunchie on my wrist to try to make me feel better. It kinda works. I pack my lunch and include some Starbucks Almond Milk Mocha Frappuccino from the large bottle in my fridge.
7:30 a.m. — I get into work and start going through emails. I have an email back from the maker of my engagement ring about a custom wedding band — FINALLY — this is the third message I sent! She says she can work on my design, but unfortunately she doesn't work with customer's stones. I'll take a look at her proposal, but without the significance of my mom's stones I'll probably wind up getting a cheaper band from her normal inventory.
10 a.m. — I waited until after the standup to drink my mocha because I didn't want to miss it by needing to use the restroom. The standup was interesting today. Our site manager basically said if you weren't prepared to stay on site all night to ensure product was running you might as well find another job. This is the part of manufacturing I hate — I prefer to actually have a work life balance! I snack on some popcorn and S. texts that now that we've sent our save the dates, we need to register our website domain so when people type it in off the cards they go to the right place! He pays for a one year registry of our custom domain with our joint card ($12). We realize it just works as a forwarding path and when people are on our website, they still see zola.com/ournames. That pisses me off, just let me be bougie, Zola! $12
12 p.m. — Lunch time with me and Seth Myers and my boss. We discuss an earlier meeting about a new tool we don't think is being implemented properly. For some reason, I'm the site expert on our PO system so after lunch I spend some time putting orders in for someone else. He doesn't have access to the system so I feel okay about it. I get mad when someone who does have access needs me to put orders for them.
4:30 p.m. — I head to the grocery store for groceries and gas. I have fuel points to use for 10¢ off ($25.74, joint card). We don't need many groceries — apples, tomatoes, bread, chips, juice, and some root beer ($33.76, joint card). While I'm loading the groceries in my car someone honks right next to me and I get defensive, but turns out it's one of my colleagues who is over from Europe! He laughs at my expression and I explain in the US, people usually honk when they're mad at you. $59.50
5:15 p.m. — When I get home from the store, my dog is enthralled by the scrunchie on my wrist and keeps sniffing and licking it. She thinks it's a toy! After unpacking the groceries, I start to make dinner while S. does the dishes and unloads the dishwasher. I make tacos with seasoned rice and we use bacon as the meat! So delicious. While we eat we watch an episode of Younger. I want to watch another episode, but I decide to do better than yesterday and go downstairs to my sewing room to unpick a hem I need to re-do and iron the fabric back into shape.
7:15 p.m. — I leave for my flexibility/contortion class tonight. I pay monthly to get two classes/week at this circus gym. On my way to the gym, I remember my favorite sub is teaching today! She teaches restorative yoga and uses a lot of massage balls. My back was really stiff this weekend so I'm extra excited for the class.
9 p.m. — When I get home I start an experiment of stabilizing some silk fabric using plain gelatin. While my fabric is soaking, I eat a little bit of peanut butter chocolate sorbetto and read on my Libby app. Then I take a shower and do my nightly routine, but I use The Ordinary's retinoid in squalene as my active tonight (I switch off every other night) and add in some borage seed oil since my face felt really dry today. Right before bed, I take my fabric out of the gelatin and hang it up to dry. We're in bed by 10:30.
Daily Total: $71.50
Day Three
4:30 a.m. — S. gets up out of bed and when he doesn't come back in a few minutes, I go to check on him. Turns out his stomach is really upset, so I bring him some water. Exactly one hour later the dog thinks it's time for breakfast and starts scream-whining in my ear. I tell her to lay back down.
6:30 a.m. — My alarm goes off, and I stay in bed on Instagram for a bit before getting up and doing my normal morning routine, adding more borage seed oil. This stuff smells like rancid chicken fat, but it's really nice for dry skin. I tell S. to stay home from work today since he still isn't feeling well. I cut apples for myself and S. and put his in the fridge for later. I also feed the dog so he can stay in bed. I pack more almond milk mocha for myself since I didn't sleep well.
7:30 a.m. — My boss is in early this morning, through the door right behind me. One of the reasons I like coming in early is so I can have some quiet time to myself in the morning to get stuff done so this is not my favorite. After my standup, I finally drink my mocha and text my best friend about our plans to go to a sewing party in Atlanta in November. I also get an email from Paypal about an unrecognized login. There are no weird charges on my account, but I change my password anyways, as they recommend.
10:30 a.m. — Lots of meetings today. I check in on S. and snack on popcorn in between meetings.
12 p.m. — I walk across the street to the library and pick up my holds. I flip through the first book while I eat my normal lunch (apples with peanut butter, chips). After lunch I spend a bunch of time in production looking at projects and I forget to eat my brownie until nearly 4!
4:30 p.m. — Apparently some people from work are going to a brewery today. It's the nicest one in the area, but also the furthest away so I don't want to go.
5 p.m. — Back home, S. is feeling better and talking to his mom on the phone. She asks what I want for my birthday and I tell her I'll send her a few links from my Amazon list for more sewing books. I make teriyaki chicken and fried rice for dinner, and we eat it while watching Stargate. I flip through both my library books while we're watching — they both have some good info and I might buy one eventually.
7:30 p.m. — I take the fabric I stiffened last night down to my sewing room to iron it. Here's where I might say "I swear I don't normally do this much ironing in a week!" but that's a lie. I spent six hours last weekend ironing silk satin. This is why I own a professional gravity-fed iron with a one gallon water tank. While I'm working, I chat with people through IG who are interested in the technique I used, drop some fabric education on my stories, and get in a hilarious play-fight with my sewing IG bestie in our stories. I love the sewing community on Instagram — they're my main source of social interaction throughout the week, I met all my local friends through it, and meet up with people I know through IG whenever I travel.
10 p.m. — I shower and get ready for bed, and address a save-the-date postcard for some distant step-family we forgot about.
Daily Total: $0
Day Four
6:30 a.m. — I wake up with my alarm and soon after get a fraudulent activity text about my credit card for our joint account. I get up to do my morning routine and decide to take care of it when I get to work. More dry shampoo in the hair and today I put it in a half up french braid with one of my new scrunchies. I like my new identity as a scrunchie girl, plus these velvet scrunchies have not creased my hair at all this week, which is AMAZING. I pack my normal lunch, remember to marinade the chicken which has been in the fridge defrosting, and leave by 7:15.
7:30 a.m. — I call my bank about the suspicious charge — it was only $0.25 thankfully. I confirm the fraud and they cancel my card. Combined with the Paypal email from yesterday I am getting suspicious and quickly check my personal USAA accounts for any unrecognized charges — looks good. Thank goodness I have different passwords for everything. I drink my tea between meetings and wind up literally chugging it in a rush to go to the next one. I forgot to bring in a new bag of popcorn and am missing my breakfast! I text with S. about logistics for our plans tonight.
11:45 a.m. — I'm hungry so I break into my lunch. I brought a children's fruit cup with me today, which I bought because it has popping boba in it but the whole thing is too sweet for the boba to stand out. I prefer my popping boba in tea or champagne! The rest of my lunch is my usual.
3 p.m. — We are having a health fair today and I go to check it out, mainly to get some snacks! I start eating a free nectarine while browsing. My company finally set up a corporate discount at the Y, but S.'s company gives more, so it's cheaper for me to stay on his membership. It reminds me to call to set up an eye doctor appointment because I need a new prescription. I got a prescription last year to get safety glasses for work so I call that office, since that is the one our work recommends and I've been before. But turns out they're out of network for our insurance! My coworker just went to the eye doctor a few weeks ago so I call up his doctor for an appointment instead.
4:30 p.m. — I head home and when I get there, my dog brings me her frisbee so we can play fetch! Most greyhounds would chase something you throw, but not many will bring it right back to you, which is just one more reason why she is the most perfect dog ever. Around 5, we go back in the house and I start washing dishes and making dinner — Italian dressing chicken with pasta! If you let the dressing caramelize in the pan it makes a delicious sauce. I also get the mail, two packages came for me, one with silk thread and one with some petticoat fabric for my wedding gown. Some of the thread is too dark, so I'll have to send it back and maybe see if the company has a color card they sell. S. comes home shortly before I'm done and we eat while catching up on Binging with Babish.
6:15 p.m. — I change and leave for my circus gym class tonight — handstands! It's long been a goal of mine to do a handstand and this class is an hour of intense ab, shoulder, and wrist exercises with a little bit of upside down at the end. After class, I go home to pick up S. so we can head to our favorite local ice cream shop. Once a month on Thursday it's vegan flight night! The theme tonight is chocolate and we split a flight with a coconut milk mint chocolate chip, cashew milk mocha with gluten free oreo, oat milk with gluten free vegan brownie bits, and hemp milk dark chocolate raspberry crunch. The dark chocolate raspberry is my favorite. S. pays with his credit card connected to our joint account since mine is now canceled. $6.50
9 p.m. — I engage in the age old debate of whether to wash my hair or paint my nails tonight. Washing my hair wins so I go down to work on some sewing a bit before bed. I am working on a silk slip made with couture techniques (hooray for fancy underwear!), which really just means a whole lot of hand sewing. I spend an hour tracing my pattern onto my fabric by sewing around it with silk thread. I'm over halfway done! Shower, wash my hair, normal bedtime routine and in bed by 10:30.
Daily Total: $6.50
Day Five
6:30 a.m. — Alarm goes off, stay in bed a few minutes before getting up for my normal morning skincare and blow drying my hair with my Dyson AirWrap. Pack my normal lunch, grab some Frappuccino from the bottle in the fridge, and leave for work by 7:15. After my 8 a.m.m I drink my Frappuccino and snack on popcorn. My work friend is hanging out in our area today because she left her computer at home and we have an extra one. We chat about all the ways having kids changes your life — she has two kids right now and we plan to have one in a couple years.
10:30 a.m. — I've been feeling on the edge of sick and I can feel a canker sore forming on my tongue so I decide it's time to restock the vitamins I ran out of the other week. I like pre-natal vitamins because they're good for your hair and nails and the folic acid is supposed to help with canker sores. There's a pair of shoes I've been thinking about in my Amazon cart so I decide to pull the trigger on them. Amazon informs me that part of my order is HSA eligible and I can add my HSA card to pay for it — this is great, as I'm really bad at remembering to use my HSA card. But then when I try to add it it doesn't recognize it as an HSA card (I swear to god, it says "health savings account" on the front). I add it as a normal card and process the order in two parts, two bottles of vitamins on the HSA card ($28.90) and the shoes on my personal card ($64.19). I also make some tea because I'm dragging! $93.09
12 p.m. — We all get an email from the chairman and don't get to go to lunch until about 45 min later as we are all pulled in to an all-hands meeting. Later in the afternoon, my coworkers and I stop by the health fair for more snacks (I get a nectarine and a dark chocolate Kind bar) and make jokes about the free t-shirts they're giving out.
4:30 p.m. — As I'm leaving work my boss makes a joke that upsets me so I'm not feeling great about today. When I get home, I climb on the couch to cuddle with my fiancé and our dog joins us. She is too big for us to all fit on the couch this way, but we make it work. I text a friend to see if she and her partner want to go out with us tonight — I'm not a big drinker but I feel like I need a drink tonight.
7 p.m. — We go to a local sake brewery, which is my favorite Asian fusion place. I get dumplings and S. gets a burger. While we're here, we hear from my friend where their plans are tonight and we decide to go meet them. $25.68
8 p.m. — The bar they are at is near one of our favorite ice cream places so we stop by on our way. I get a cone with cashew milk espresso chocolate chip and S. gets a cup of chocolate orange ice cream ($8.28). We walk over to the bar to meet up with our friends. I first get a gin drink with well gin so bad I can't even taste it in the cocktail and later get a Hemingway daiquiri. S. has a beer. ($22.50) We have a great time hanging out with them and it definitely makes me feel better! $30.78
10:30 p.m. — We get home because we need to feed the dog. S. has one more beer and I make a gin with bitter lemon. We watch the new episode of Hot Ones while we drink then go to bed. I still mange my normal skincare routine #adulting.
Daily Total: $149.55
Day Six
8:30 a.m. — After whining every 30 minutes for the past hour, the dog convinces me to get out of bed and feed her. I go back to bed on my phone and get up at 9 to make some tea and a bagel.
11:30 a.m. — One of my bridesmaids is in town with a group of her friends and want to meet up for lunch. I emerge from my sewing room to shower and put on makeup — eyebrows, foundation, cream blush, eyeshadow, mascara, and lipstick. I really love makeup but I usually don't waste my time during the week.
12:30 p.m. — We meet my friend, her husband, and one of her friends at a brewery with really good food. We pay a meter ($1.50), but later S. moves my car into their lot when a spot opens up so we don't have to continue to feed the meter. I get a bobamosa (popping fruit boba in champagne) and S. gets a beer. We all get their signature burger that has candied bacon on it. I warn them about my dairy allergy and order mine without cheese, sauces, and a bun — I brought a dairy free bun from home ($41.20). We wind up seeing one of our sorority sisters and her husband who are in town on vacation and we laugh about how we revert back to using their maiden names because we can't remember what they changed to after marriage. I'm not taking S.'s last name but we are considering both changing to a hybrid name, because our last names rhyme so hyphenating sounds really stupid. $42.70
2 p.m. — We go over to our favorite cocktail bar just to show our friends the architecture and the rooftop. Then we walk nearby to another bar where A. gets a beer and I just drink water ($7). We meet a couple new to the area who are there with their greyhound and exchange numbers so we can have a playdate. $7
3:30 p.m. — We go back home and I finally paint my nails while we watch Stargate. I talk to my sister on the phone and when I don't validate about something she's complaining about, and instead take the opposite position, she gets mad and hangs up on me.
7 p.m. — The friends we had lunch with invited us to their Airbnb tonight for hot tub and a bonfire. We throw a hodgepodge of food from the freezer into the oven for a quick meal before we feed the dog and head back out.
8:30 p.m. — We get to their rental and I help them build a fire. I have a couple s'mores and S. has a beer and then we go in their hot tub. We get home at 11:30 and I quickly shower to rinse off the hot tub before we get in bed.
Daily Total: $49.70
Day Seven
7:30 a.m. — The dog starts whining and R gets up to feed her so she'll leave us alone and we can go back to sleep. We wake up at 9, but stay in bed for a bit. I forget how dehydrated a hot tub makes you! I get up about 45 minutes later to make tea and eat children's mini waffles that need to be cleared out of the freezer. They have Sesame Street characters on them, but they're the only ones I've found that are diary free.
12:30 p.m. — I've mostly been hand sewing all day (slow progress) and I come upstairs to eat a random assortment of snacks from the pantry for lunch. S. talks to me about the plan he is making to screen in our back porch. He estimates it will cost about $500 to do.
4:30 p.m. — I reach an okay stopping point and go back upstairs because we need to get a few things done this weekend. I throw the frisbee for the dog while S. mows the front lawn, then I load the dishwasher and do some picking up so we can run the roomba.
6:00 p.m. — After S. showers we go out to the Asian market where we buy shaoxing cooking wine, gyoza sauce, wonton wrappers, jasmine rice, and honey citron tea. S. pays with his credit card connected to our joint account ($31.18). I just got an email today that my new card has shipped, and I hope it gets in before I go grocery shopping next week. After the store we stop by Five Guys on our way home for dinner. We both get little hamburgers, mine without a bun and with instructions to clean the cheese off the grill before cooking it, and we split fries and a drink ($20.50). We bring it home to eat and I pop a hamburger bun from the freezer in the microwave to defrost. We watch the movie Yesterday while we eat. I love The Beatles, so the music alone makes the movie super enjoyable. We talk about what songs they left out of the movie and I sing The Beatles for the rest of the night. $51.68
10 p.m. — After I spent some time trying and failing to do this hem I go to shower and get ready for bed (On Sundays, my skincare routine uses The Ordinary Alpha Lipoic Acid as my active for a mild peel). Once we're in bed I can't relax because I have too many thoughts in my mind — mostly imposter syndrome, stress about work, anxiety from feeling societal pressure to achieve more than I want to, mixed in with frustration from the sewing I've been doing. S. talks them out of my mind and I have a good cry. Then we talk about happier things like my birthday next weekend, our best friends coming to visit, and making dumplings and cookies next week. Eight years together and he knows exactly what I need to get out of a funk. With all the talking and some other stuff we actually wind up going to sleep about 11:30. Tomorrow will be another mocha Frappuccino day.
Daily Total: $51.68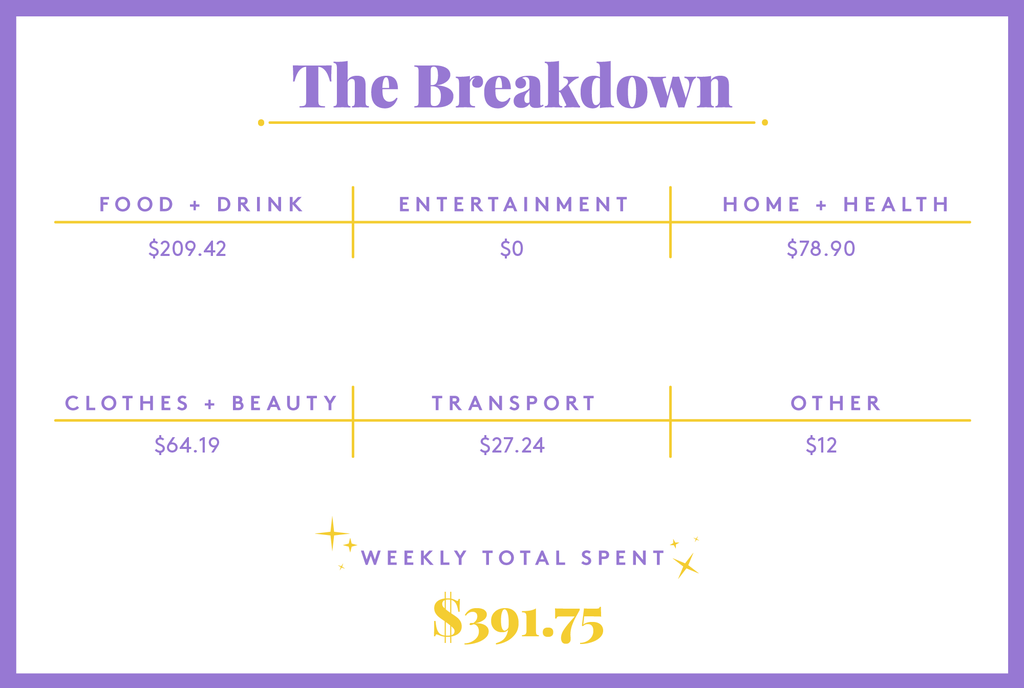 We want to know your streaming service drama: Do you secretly use your ex-boyfriend's dad's Netflix account? How about your coworker's mom's husband's Amazon Prime? What about Hulu? HBO Go? Sound off here about your craziest streaming service account confession for a chance to be featured on our site.
Want more Money Diaries? Well, you're in luck — Refinery29 Canada is launching its own Canadian Money Diaries three times a week. (Which means once you're done with catching up on all our diaries during your lunch break, you can head on over to R29 CA for even more.) You can now experience Money Diaries IRL at 29Rooms Toronto September 26th through October 6th. Buy tickets here.
We want to know your streaming service drama! Do you secretly use your ex-boyfriend's dad's Netflix account? How about your coworker's mom's husband's Amazon Prime? What about Hulu? HBO Go? Sound off here about your craziest streaming service account confession for a chance to be featured on our site.
Money Diaries are meant to reflect individual women's experiences and do not necessarily reflect Refinery29's point of view. Refinery29 in no way encourages illegal activity or harmful behavior.
The first step to getting your financial life in order is tracking what you spend — to try on your own, check out our guide to managing your money every day. For more money diaries, click here.
Do you have a Money Diary you'd like to share? Submit it with us here.

Like what you see? How about some more R29 goodness, right here?
Overwhelmed? Try These Tips & Solutions
R29 Readers Confess Their Amazon Hidden Gems